Im so happy today. Received a surprise parcel plus wonderful package.
Yiihaaaa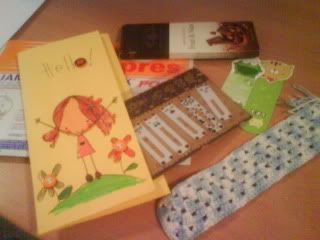 A cutest card. And a few lovely bookmarks plus a delicious choc.
Kawaiiii bookmarks..
I love this bookmark. Handmade *of course crocheted by talented crocheter*.
Love the color.
This is my first time joined the bookmark swap @ ravelry. Will join again. Yessss I do...
Feel like addicted!! Haha
Thanks to my ticer sue for introducing me to the group and thanks again for the parcel. Haha.
Tah macam mana, she is my partner for this time. Jodoh kuat okay. Walaupun mcm dua orang Malaysian jek dalam group tu, tetap jodohnya di situ. And seriously, i heart the bookmark
Thanks again, sueazhari :P
Oh ya, today joined class craft - Trinklets. Almost every month, ada kelas craft and if ada masa, i will joined the class.
Best!
And this time - Trinklets
From these..
And tadaaaa :
Nice kan? Hehe
Ours trinklets..
Terasa mahu beli semua barang and buat trinklets pulak.
Hehe
I love Wednesday!!
Daaaa